Merganser Caprice at Benboee

"Eva"

Sh Ch Isara Kurzhaar Wooster for Merganser  x  Cairdeil of Blackwood loch for Merganser

Date of Birth:  10th January 2003

Eva is our first GSP and was bread by Mr Des Flaherty and Mrs Sue Reddyhaugh. I would like to thank them for breeding such a wonderful bitch.

Eva has constantly won in the show ring at Open and Championship level.

"Very pleaseing Bitch, nothing over-done but fulfils requirements, in very hard working condition, Very sound moving dog a real pleasure to go over"

BOB

Mr David Coode, Warringah

Evas first litter was by the wonderful dog Sh Ch Isara Kurzaan Bootlegger. We kept a dog puppy
Benboee Bowmore
, who is following in his mothers footsteps in the ring.
Eva had a 2nd litter in April 2007 by Sh Ch Keigame Model Man. We kept Benboee Bolaro and Benboee Bachata. Both puppies have had a successful first year in the ring with Bachata winning his JW and 3 RCC.
Well... what else do you expect when both parents are models. (Model Man and Caprice)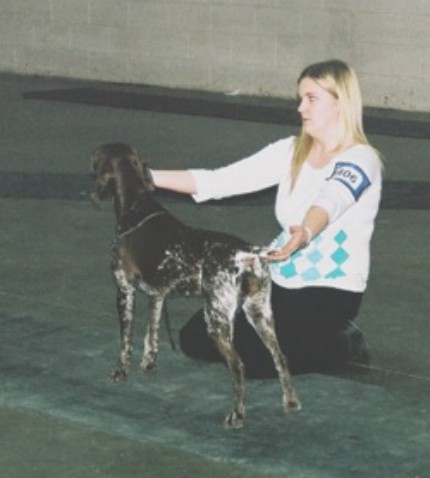 Pictured Left is Eva winning the Gundog Group at Rutherglen Open show in February 2007 under Richard Morris.

Well Angulated and Balanced bitch of top quality. Pleasing head and expression. Kind Eye, clean outline, Good Bone, Firm Feet, Good depth of body, well coupled, movement very sound and true with strong drive, not a flashy sort but a well deserved best Gundog.

I would like to thank all judges at Open show level and Champ show level who have thought so highly of this special girl.